HIJACKED !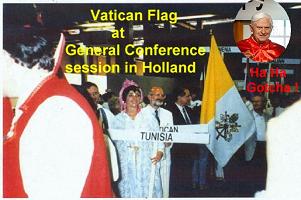 FOR MANY YEARS WE HAVE KNOWN
THAT THE GENERAL CONFERENCE
OF THE SEVENTH DAY ADVENTIST
CHURCH HAD BEEN TAKEN OVER
BY THE CATHOLIC ORDER OF THE
JESUITS. EVERY PASSING YEAR
BROUGHT MORE EVIDENCE CONFIRMING
THAT TRAGIC FACT ! BUT EVEN
THOUGH MANY FAITHFUL ADVENTISTS
HAVE BEEN SOUNDING THE WARNING
TRUMPET, THE MAJORITY OF ADVENTISTS
REMAIN IN THEIR LAODICEAN SLEEP !
ELLEN WHITE WARNED THEM OVER
AND OVER AGAIN THAT THEY WERE
BECOMING MORE AND MORE LIKE
THE FALLEN CHURCHES THAT COMPRISE
BABYLON AND THAT THEY WERE IN
REAL DANGER OF BECOMING ONE
OF THE HARLOT DAUGHTERS OF
BABYLON THE GREAT !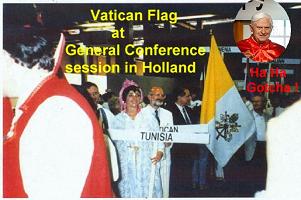 THIS PICTURE CONFIRMS THAT THE PROPHECY
HAS SINCE BEEN FULFILLED !
40,000 ADVENTISTS GAVE THE VATICAN
A STANDING OVATION WHEN IT WAS PARADED
ACROSS THE STAGE AT THIS SESSION !
WHAT WERE THEY THINKING ?
DID THEY ENTIRELY FORGET THE REASON
FOR THEIR EXISTENCE ?
DID THEY FORGET THE MESSAGE THEY HAVE
BEEN COMMISSIONED BY GOD TO PREACH TO
EVERY NATION ON EARTH ?
WHO TOLD THEM THE PAPACY IS NO LONGER
THE BEAST OF DANIEL AND REVELATION
THAT PERSECUTED THE PEOPLE OF GOD
FOR 1260 YEARS, TORTURING AND MURDERING
MILLIONS OF GOD'S FAITHFUL CHILDREN !
THE SCRIPTURES GIVE US THE ANSWER: